APLIKASI BIOPLASTIK DARI TEPUNG PORANG SEBAGAI KEMASAN MAKANAN
Fitriyana

Politeknik Negeri Samarinda
Abstract views:
10
,
pdf downloads:
8
Keywords:
bioplastics, glycerol, food packaging, chitosan, porang flour
Abstract
Penggunaan plastik sebagai kemasan tidak dapat dipisahkan dari kehidupan sehari-hari. Seiring meningkatnya
perhatian manusia terhadap lingkungan, banyak dilakukan penelitian untuk menemukan bahan pengemas sebagai
pengganti plastik sintetis yang mampu terdegradasi secara alami (bioplastik) dari bahan polimer alami seperti pati,
selulosa dan serat. Pati yang digunakan bersumber dari tepung porang. Tujuan penelitian ini adalah mengetahui
pengaruh penggunaan dan karakteristik bioplastik tepung porang sebagai kemasan makanan terhadap daya tahan
dan kualitas makanan selama penyimpanan. Penelitian ini membuat bioplastik tepung porang dengan melarutkan
kitosan 1,5% (b/v) dengan asam asetat 0,5% lalu menambahkan tepung porang 2,5 g, gliserol 3% (v/v) dan aquades
lalu dipanaskan hingga 80oC. Kemudian dicetak dan dikeringkan dengan suhu 60oC. Bioplastik yang dihasilkan
diaplikasikan pada makanan yakni sosis So Nice. Kondisi pengemasan makanan divariasikan pada tempat terbuka
dan tertutup (tanpa pembungkus, pembungkus plastik dan bioplastik) yang diamati selama 8 hari. Karakteristik
bioplastik yang dihasilkan antara lain kadar air 60,20%, penyerapan air 92,35%, permeabilitas uap air 0,7391
g./jam.m2 dan biodegradasi 100% dalam 7 hari. Hasil pengamatan visual menunjukkan bahwa sosis mulai rusak
pada hari kedua (pada tempat terbuka) dan hari pertama (pada tempat tertutup). Berdasarkan pengamatan visual,
bioplastik kurang baik dalam menjaga daya tahan dan kualitas makanan selama penyimpanan.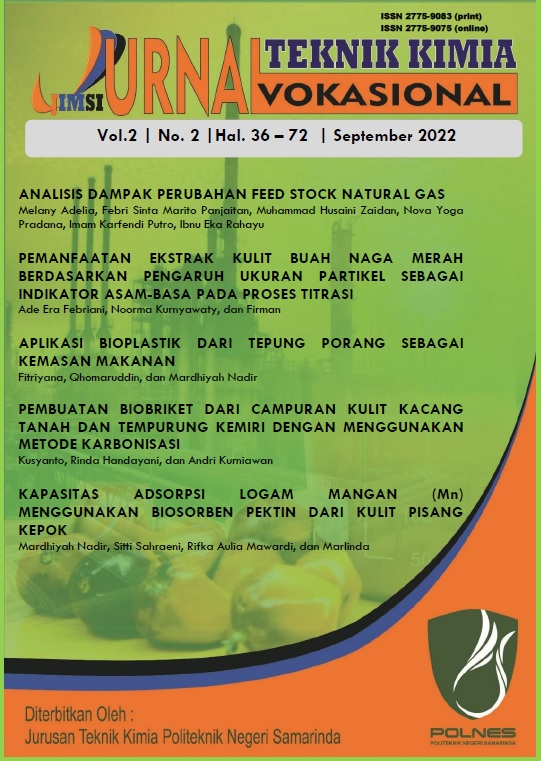 Copyright (c) 2023 JURNAL TEKNIK KIMIA VOKASIONAL (JIMSI)
This work is licensed under a Creative Commons Attribution-NonCommercial-ShareAlike 4.0 International License.
Copyright Transfer Statement
The copyright of this article is transferred to JIMSI and when the article is accepted for publication. the authors transfer all and all rights into and to paper including but not limited to all copyrights in the Psikostudia. The author represents and warrants that the original is the original and that he/she is the author of this paper unless the material is clearly identified as the original source, with notification of the permission of the copyright owner if necessary. The author states that he has the authority and authority to make and carry out this task.
The author states that:
This paper has not been published in the same form elsewhere.
This will not be submitted elsewhere for publication prior to acceptance/rejection by this Journal.
A Copyright permission is obtained for material published elsewhere and who require permission for this reproduction. Furthermore, I / We hereby transfer the unlimited publication rights of the above paper to Jurnal Teknik Kimia Vokasional. Copyright transfer includes exclusive rights to reproduce and distribute articles, including reprints, translations, photographic reproductions, microforms, electronic forms (offline, online), or other similar reproductions.
The author's mark is appropriate for and accepts responsibility for releasing this material on behalf of any and all coauthor. This Agreement shall be signed by at least one author who has obtained the consent of the co-author (s) if applicable. After the submission of this agreement is signed by the author concerned, the amendment of the author or in the order of the author listed shall not be accepted.
Rights / Terms and Conditions Saved
The author keeps all proprietary rights in every process, procedure, or article creation described in Work.
The author may reproduce or permit others to reproduce the work or derivative works for the author's personal use or for the use of the company, provided that the source and the Informatika Mulawarman copyright notice are indicated, the copy is not used in any way implying the Jurnal Psikostudia approval of the product or service from any company, and the copy itself is not offered for sale.
Although authors are permitted to reuse all or part of the Works in other works, this does not include granting third-party requests to reprint, republish, or other types of reuse.
Jurnal Teknik Kimia Vokasional by http://e-journal.polnes.ac.id/index.php/jimsi licensed under a Creative Commons Attribution-ShareAlike 4.0 International License.