APLIKASI WARNA DAN ANGKA BERMAKNA BAIK DALAM BUDAYA TIONGHOA UNTUK DESAIN PACKAGING HAMPERS TINGJING
Ivena Siddharta Halim

Universitas Surabaya

Guguh Guguh Sujatmiko

Universitas Surabaya

Rosita Meitha Surjani

Universitas Surabaya
Abstract views:
69
,
PDF downloads:
78
Keywords:
warna, angka, packaging, Tingjing
Abstract
Dalam budaya Tionghoa, salah satu rangkaian kegiatan sebelum melaksanakan pernikahan adalah prosesi lamaran yang disebut Tingjing. Desain packaging hampers Tingjing dirancang untuk kegiatan Tingjing masa kini yang memiliki kebutuhan hampers dengan desain packaging khusus agar hampers lebih berkesan serta bermakna untuk penerimanya. Metode yang digunakan dalam perancangan ini adalah 2 dari 4 fase design thinking dalam model double diamond, yaitu discover dan define dengan melakukan tinjauan pustaka, In Depth Interview (IDI) 1 orang founder event organizer dan 5 orang Tionghoa yang telah menyelenggarakan acara Tingjing, dan observasi 3 vendor hampers Tingjing. Hasil yang dicapai dalam penelitian ini adalah pemaknaan yang ada pada hampers Tinjing berdasarkan budaya Tionghoa sangatlah penting dan ditemukan jenis warna dan angka-angka yang bermakna baik serta dapat diaplikasikan pada desain packaging hampers Tingjing.
Downloads
Download data is not yet available.
References
E. Kuntjara, S. Suprajitno, and J. M. Djundjung, "Surviving Chineseness in Chinese Indonesian Wedding Celebration," J. Chin. Lit. Cult., vol. 6, 2018.
[2] C. Bell, Ritual Theory, Ritual Practice, 1st ed. New York: Oxford UP, 2009.
[3] Jessica, E. C. Yuwono, and V. Yusuf, "Perancangan Kemasan Hampers dengan Sistem Bongkar Pasang untuk Lunio Design," Junal DKV Adiwarna, vol. 1, 2020.
[4] N. R. Aida, "Sejarah Hampers," Kompas, 2001. https://www.kompas.com/tren/read/2021/05/13/100500765/sejarah-hampers-?page=all (accessed Mar. 20, 2022).
[5] K. A. LinggoRahardjo, "Konsep Visual Chinese Engagement Hampers Bergaya Modern Bagi Pasar Pasangan Muda Surabaya," vol. 1, 2020.
[6] Klimchuk, M. Rosner, and S. A. Krasovec, Desain Kemasan. Jakarta: Erlangga, 2006.
[7] R. R. Soenarto, Budaya Tionghua Pecinan Semarang Sānbǎolóng Tángrénjiē Zhōnghuá Wénhuà. Semarang: Perkumpulan Sosial Rasa Dharma, 2013.
[8] R. Dossymbekova, F. Daulet, A. Kenzhebaeva, and Z. Zeinolla, "Linguocultural Aspects of Numerology in the Kazakh and Chinese Languages," Procedia - Soc. Behav. Sci., vol. 197, pp. 2512–2519, Jul. 2015, doi: 10.1016/j.sbspro.2015.07.325.
[9] K. Vidyaprabha, E. T. Susanto, N. Jayadi, and R. D. Prasetya, "Desain Kabinet Multifungsi untuk Ruang Sempit Apartemen," J. Desain Indones., vol. 4, no. 01, p. 33, 2022.
[10] A. K. Dewi, "PENGEMBANGAN KOMPETENSI MULTILITERASI DESAINBERBASIS PADA PENERAPAN TRADISI KOMUNIKASI DI ERA INDONESIA 4.0," J. Desain Indones., vol. 01, no. 01, p. 05, 2019.
[11] J. L. Scott, For Gods, Ghosts, and Ancestors: The Chinese Tradition of Paper Offerings. Hong Kong: Hong Kong University Press, 2007.
[12] A. K. Streit, "ANALISA PERAN VISUAL DALAM PERNIKAHAN TRADISIONAL ADAT TIONG HOA," vol. 1, p. 6, 2012.
[13] F. M. Kurnia and B. Kurniawan, "PERSEPSI WARNA BAGI MAHASISWA ETNIS TIONGHOA UNIVERSITAS KRISTEN PETRA," Century, vol. 4, no. 1, pp. 41–49, 2016.
[14] M. Duffy, "LAMORINDA WEEKLY | Feng Shui and Color," 2015.
[15] H. Y. Hariyanto, "Pandangan Mahasiswa Universitas Kristen Petra terhadap Angka Sial dan Angka Keberuntungan," Century, vol. 1, 2013.
[16] K. Widiastuti, "BENTUK DAN MAKNA RUMAH TINGGAL ETNIS TIONGHOA DI BANJARMASIN".
[17] N. L. P. Susanti and L. Dwol, "BATIK LONG DRESS MOTIF IKAN ARWANA THE LONG DRESS BATIKARWANA FISH MOTIVE".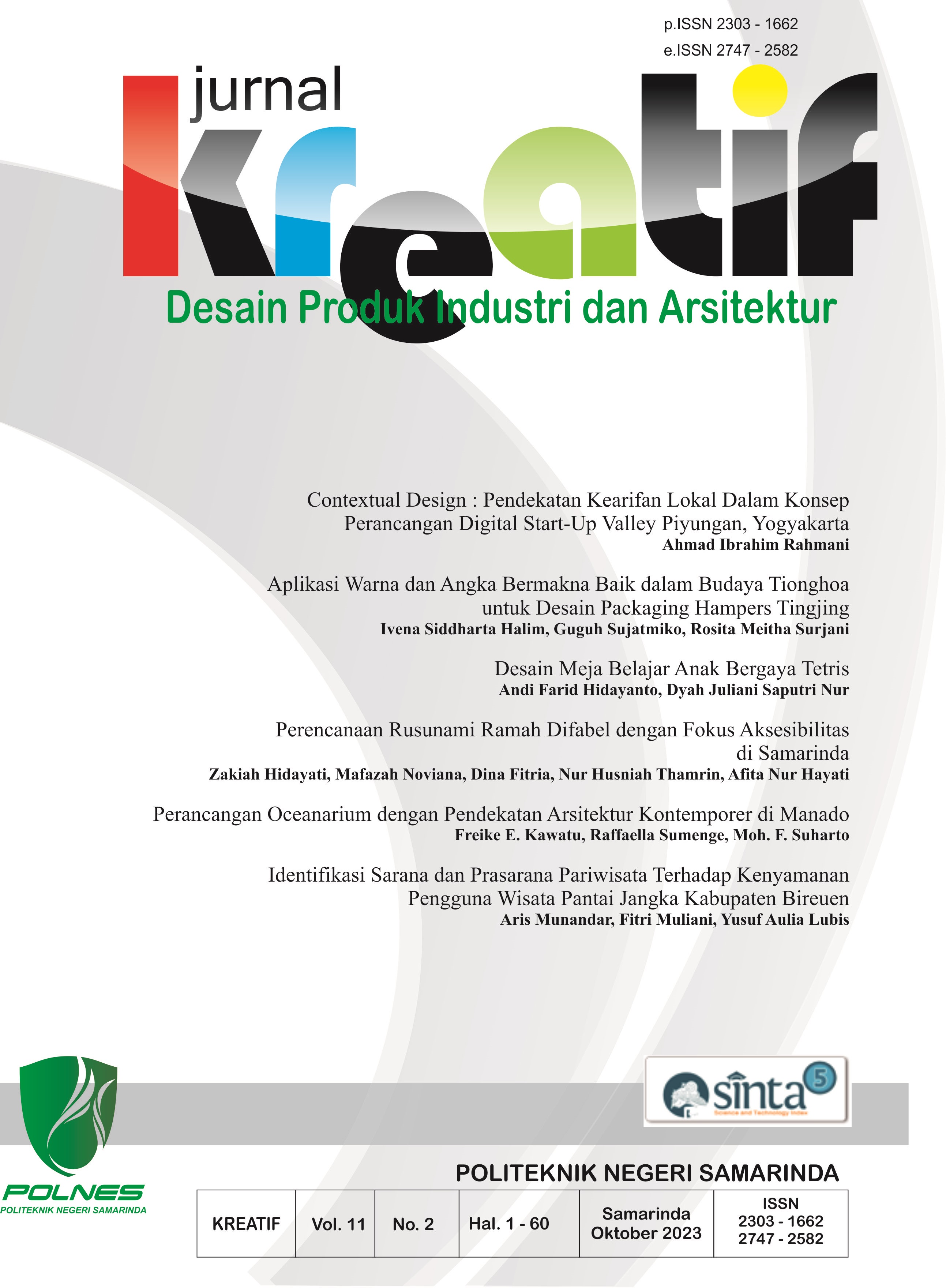 How to Cite
Halim, I. S., Guguh Sujatmiko , G., & Surjani, R. M. (2023). APLIKASI WARNA DAN ANGKA BERMAKNA BAIK DALAM BUDAYA TIONGHOA UNTUK DESAIN PACKAGING HAMPERS TINGJING. Jurnal Kreatif : Desain Produk Industri Dan Arsitektur, 11(2), 10. https://doi.org/10.46964/jkdpia.v11i2.359
Copyright (c) 2023 Guguh
This work is licensed under a Creative Commons Attribution-ShareAlike 4.0 International License.
Authors who publish with this journal agree to the following terms:
Copyright on any article is retained by the author(s).
The author grants the journal, right of first publication with the work simultaneously licensed under a Creative Commons Attribution License that allows others to share the work with an acknowledgment of the work's authorship and initial publication in this journal.
Authors are able to enter into separate, additional contractual arrangements for the non-exclusive distribution of the journal's published version of the work (e.g., post it to an institutional repository or publish it in a book), with an acknowledgment of its initial publication in this journal.
Authors are permitted and encouraged to post their work online (e.g., in institutional repositories or on their website) prior to and during the submission process, as it can lead to productive exchanges, as well as earlier and greater citation of published work.
The article and any associated published material is distributed under the Creative Commons Attribution-ShareAlike 4.0 International License