PELUANG INOVASI PRODUK TAS WANITA BERBAHAN ULAP DOYO BERDASARKAN PREFERENSI MASYARAKAT DI KALIMANTAN TIMUR
Dita Andansari

Darius Shyafary
Abstract views:
152
,
pdf downloads:
76
Keywords:
peluang, inovasi, tas wanita, ulap doyo, preferensi, Kalimantan Timur
Abstract
Kerajinan khas di Kalimantan Timur terdiri dari berbagai macam produk, tetapi produk kerajinan yang merupakan unggulan salah satunya adalah kain Ulap Doyo. Ulap Doyo sudah mengalami perkembangan dalam aplikasinya yaitu untuk produk fesyen seperti pakaian, tetapi masih sedikit UKM Ulap Doyo yang melakukan pengembangan produknya. Akhir-akhir ini, pengembangan produk sedang banyak diarahkan pada suatu produk yang dirancang berdasarkan kebutuhan pelanggan (customer-oriented). Pengembangan produk bisa dilakukan pada setiap aspek produk. Inovasi/ pengembangan tas berbahan ulap doyo di Kalimantan Timur berdasarkan preferensi masyarakat dengan metode kansei engineering masih sangat terbatas terutama masih pada bentuk saja. Perlu dikaji peluang inovasi/ pengembangan tas tangan Wanita berbahan ulap doyo dari aspek desain selain bentuk, dari aspek fungsi serta aspek manufacturability. Metode yang digunakan adalah metode deskriptif dengan penelurusan referensi. Hasil dari penelitian ini adalah menunjukkan bahwa inovasi produk tas berbahan ulap doyo dari segi inovasi produk berdasarkan preferensi masyarakat masih sangat berpeluang karena belum banyak penelitian yang membahas berdasarkan preferensi dari masyarakat. Kesimpulan dari penelitian adalah inovasi tas wanita berbahan ulap doyo dari segi inovasi produk berdasarkan preferensi masyarakat yang telah dilakukan ada pada : a. empat komponen tas, b. tiga bahan kombinasi, c. lima fungsi tas.
Downloads
Download data is not yet available.
References
"bag trends by the decade." https://www.vogue.co.uk/gallery/bag-trends-by-the-decade (accessed.
Y. O. Nagamachi M. and M.Ishikawa, "Kansei Engineering and application of the rough sets model," Proc.IMechE
Vol220 Part I:J. Systems and Control Engineering., 2006.
M. Nagamachi, Kansei/Affective Engineering. Boca Raton: Taylor & Francis Group, 2011.
M. Haryono and Bariyah, "Perancangan Konsep Produk Alas Kaki dengan Menggunakan Integrasi Metode Kansei Engineering dan Model Kano," Jurnal Ilmiah Teknik Industri, vol. 13, 1, p. 12, 2014.
Desrianty and Widyani, " Rancangan Konsep Produk Alat Makan Portable Menggunakan Metode Kansei Engineering. ," Journal Industrial Servicess vol. 3, 1, Oktober 2017 2017.
A. Shergian and I. T, "Design of Innovative Alarm Clock Made From Bamboo With Kansei Engineering
Approach," Agriculture and Agricultural Science Procedia, vol. 3, p. 5, 2014.
H. Quan, "Product Innovation Design Based on Deep Learning and Kansei Engineering," Applied Sciences 2018.
Q. Lei, et all,, "Study on the Materials Design of Furniture Based on Kansei Engineering," International Journal of
Engineering Innovation & Research, vol. 4, no. 5, 2015.
V. S. Johan, et all, "Identifikasi Kansei Untuk Evaluasi Desain Produk Kursi Makan Rotan Kansei Identification For
Rattan Dining Chair Design Evaluation. ," Jurnal Inovisi™ vol. 7, 2, Oktober 2011 2011.
M. Hartono, "Kansei mining-based in services sebagai alternatif pengembanga nmetodologi affective design,"
KELUWIH: Jurnal Sains dan Teknologi, vol. 1, 1, p. 6, Februari 2020 2020.
I. Prakoso and H. Purnomo, "Innovative Design of the Combined Rocking Horse Toy and Folding Chair for
Children," International Journal on Advanced Science Engineering Information Technology, vol. 9, 2019.
J. Rajasekera, "Apparel Design Optimization for Global Market : Kansei Engineering Preference Model,"
International Journal of Affective Engineering March 2015 2015.
Lee and DeLong, "Re birthed fashion handbags as a collaborative design project," Springer Nature, 28 May 2018.
Andansari and Keliwar, "The Development of Ulap Doyo Handheld Handbag For Application in Pokant Takaq
Small and Medium Enterprise, Kalimantan Timur To Support Tourism Sector," presented at the The 4th
International Conference on Applied Science and Technology (iCAST 2021), Samarinda, 2019.
Andansari and Keliwar, "Kansei Factor in Developing Design Of Women's Bag Materials Of Combination of Doyo
Woven Fabric and Genuine Leather," in Borobudur International Symposium on Humanities and Social Sciences,
Magelang, 2020, vol. 2.
A. Rahmitasari, "Desain Tas Kasual Dari Kanvas Beraksen Ulap Doyo Untuk Remaja Laki-Laki," 2021.
E. Nofiansyah, "Desain Tas Selempang Berbahan Ulap Doyo, Kulit Dan Kayu Khas Kalimantan.," 2021.
Y. Dianita, "Desain Tas Selempang Ulap Doyo Dengan Kombinasi Kulit Dilengkapi Dengan Tempat Alat
Kesehatan Covid-19," 2021.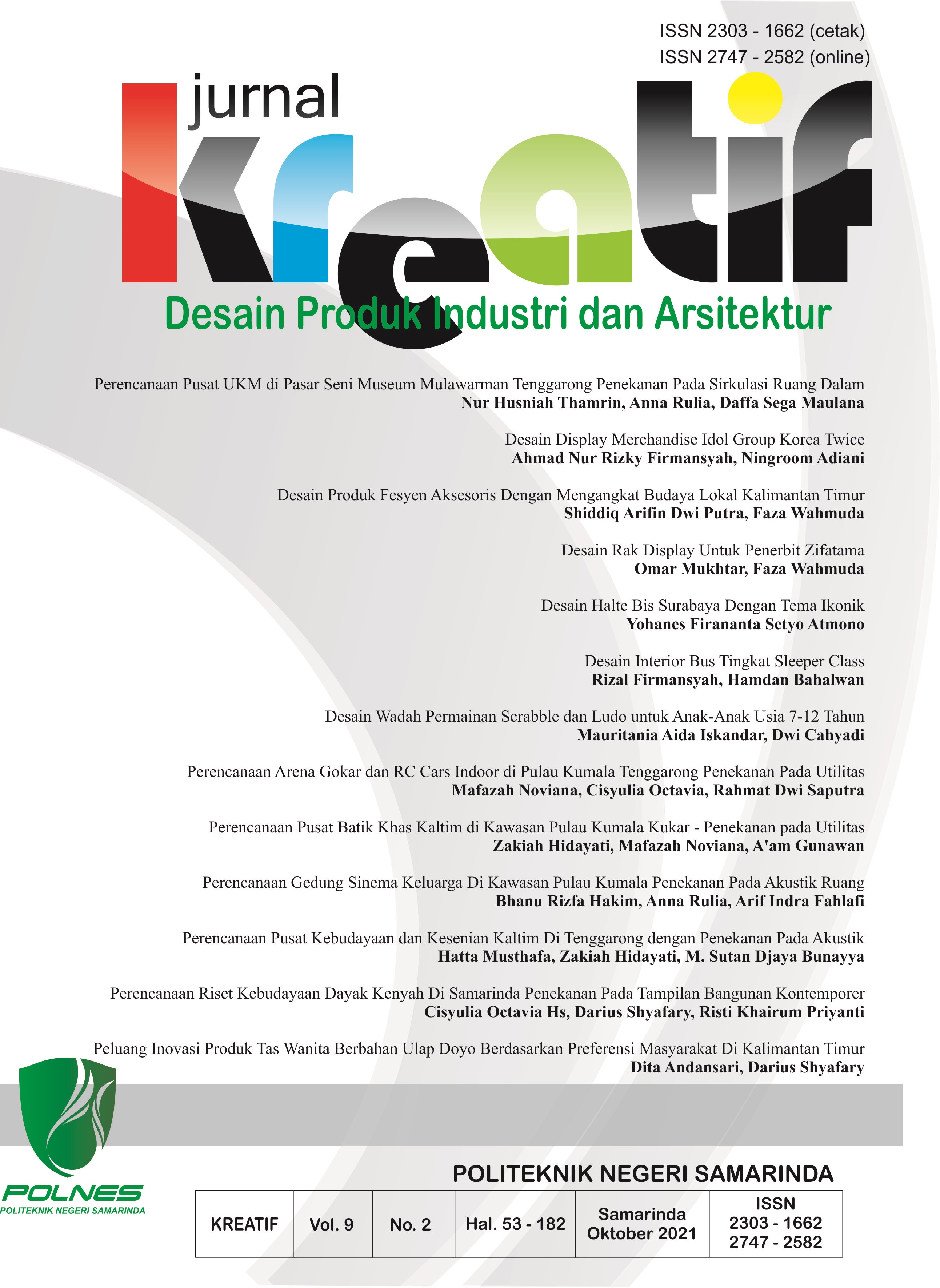 How to Cite
Andansari, D., & Shyafary, D. (2021). PELUANG INOVASI PRODUK TAS WANITA BERBAHAN ULAP DOYO BERDASARKAN PREFERENSI MASYARAKAT DI KALIMANTAN TIMUR. Jurnal Kreatif : Desain Produk Industri Dan Arsitektur, 9(2), 7. https://doi.org/10.46964/jkdpia.v9i2.193
Copyright (c) 2021 Dita Andansari
This work is licensed under a Creative Commons Attribution-ShareAlike 4.0 International License.
Authors who publish with this journal agree to the following terms:
Copyright on any article is retained by the author(s).
The author grants the journal, right of first publication with the work simultaneously licensed under a Creative Commons Attribution License that allows others to share the work with an acknowledgment of the work's authorship and initial publication in this journal.
Authors are able to enter into separate, additional contractual arrangements for the non-exclusive distribution of the journal's published version of the work (e.g., post it to an institutional repository or publish it in a book), with an acknowledgment of its initial publication in this journal.
Authors are permitted and encouraged to post their work online (e.g., in institutional repositories or on their website) prior to and during the submission process, as it can lead to productive exchanges, as well as earlier and greater citation of published work.
The article and any associated published material is distributed under the Creative Commons Attribution-ShareAlike 4.0 International License